Soldier Honored: Jason C. Ramseyer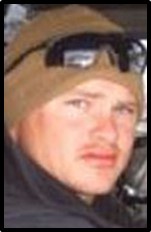 Dates:
Died April 20, 2006
Hometown:
Lenoir, SC
Branch of Service:
Marine Corps
Rank:
Staff Sergeant
Staff Sergeant Ramseyer, 28, of Lenoir, North Carolina, assigned to the  III Marine Expeditionary Force, and was killed on April 20, 2006, while conducting combat operations against enemy forces in Anbar Province, Iraq.

Staff Sergeant Ramseyer was born in West Palm Beach, Florida but moved to Lenoir with his parents in 1990. He was a competitor, excelling at wrestling, soccer, and baseball. He pre-enlisted into the Marines and two weeks after graduation left for basic training.  He became an instructor and was among the elite martial artists in the Corps. His students gave him the highest marks for leadership and integrity.  He served in Kosovo, Afghanistan and Iraq.



His wife Amanda, who had known him since high school, said, "If you look up 'Marine,' you'll see him."  He and Amanda had three children, Caleb, Riley and Cadence.



SSgt Ramseyer's daughters are both recipients of the Folds of Honor Scholarship.