Soldier Honored: Delmar White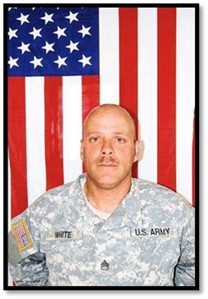 Dates:
September 2, 2007
Hometown:
Wallins, KY
Branch of Service:
Army National Guard
Rank:
Staff Sergeant
Staff Sergeant Delmar White, 37, of Wallins, Kentucky, was assigned to the 2nd Battalion, 138th Field Artillery, Kentucky Army National Guard, Carrollton, Kentucky.  On September 2, 2007, SSG White was serving during Operation Iraqi Freedom when a roadside bomb exploded while he and three others were escorting a convoy in Iraq.  Three others were injured, and SSG White was killed in the attack.

SSG White, a graduate of Cawood High School in Harlan, moved to central Kentucky in January 1999 and soon met his wife.  SSG White started his military career in the Marines. A few years later he joined the Army National Guard. SSG White was in the service approximately 15 years while serving between the two branches of the military, where he received a variety of awards and decorations.  A veteran of Operation Desert Storm, he was a Staff Sergeant and Section Leader with the Kentucky Army National Guard.  White died doing what he loved, said his wife.  "He went out a hero.  He was a hero before he went to Iraq, in my book."  Along with his many other awards and accolades, SSG White received the Bronze Star and Purple Heart for his selfless sacrifice for his country.

SSG White was known as someone you could take to about anything.  He was a fantastic person who everyone loved.  SSG White's commander in Iraq said he was a first-class joker who never passed up a chance to play cards.  A father of two, SSG White did everything he could to make sure his family knew that they were loved and safe.  He enjoyed spending time doing a variety of activities and spending quality time with them.

SSG White's son is a Folds of Honor Scholarship recipient.