Soldier Honored: Javier Orlando Ortiz Rivera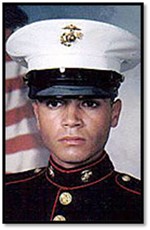 Dates:
Died on November 16t, 2010
Hometown:
Rochester, New York
Branch of Service:
Marine Corps
Rank:
Staff Sergeant
Staff Sergeant Javier Ortiz-Rivera, 26, of Rochester, New York was killed in action on November 16, 2010 while conducting combat operations in Helmand province, Afghanistan.

SSgt Ortiz-Rivera was born in Cayey, Puerto Rico. His family moved to Rochester in 1991. In 2002, he graduated from East High in Rochester, New York, and joined the Marines.  He was deployed multiple times to combat zones in Iraq and Afghanistan.

Javier was a Dallas Cowboys fan. Living in a military town, there is a good mix of NFL fans. Every Sunday, during football season, Javier would wear a Dallas Cowboys jersey to church. At Javier's memorial service a church full of hundreds of people, including die hard Dallas Cowboys haters, wore Dallas Cowboys fan attire.

SSgt Ortiz-Rivera was often described as a family-oriented man. He was always talking about his wife, Veronica, kids, and how much he loved them. All he cared about was making his family happy and proud of him. He was survived by his wife, Veronica, and three children, Alyssa, Andrew and Anthony.

Two of the Ortiz-Rivera children are Folds of Honor Scholarship recipients.