Soldier Honored: Bobby Mendez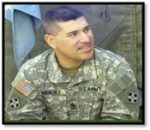 Dates:
April 27, 2006
Hometown:
Brooklyn, NY
Branch of Service:
Army
Rank:
First Sergeant
First Sergeant Bobby Mendez, 38, was assigned to the 2nd Special Troops Battalion, 2nd Brigade, 4th Infantry Division, out of Fort Hood, Texas.  While serving during Operation Iraqi Freedom, 1SGT Mendez died April 27, 2006, of injuries sustained when an improvised explosive device detonated near his Humvee during combat operations in Baghdad.

1SGT Mendez was a career soldier, having served for 19 years.  After traveling extensively with the Army, including a tour in Desert Storm and Korea, the Mendez family transferred to Fort Huachuca, Arizona in June 1997. While stationed at Fort Huachuca, 1SGT Mendez was an instructor at the Noncommissioned Officer Academy.  Throughout his time of service, he earned the Kuwait Liberation Medal awarded to soldiers who participated in the 1991 Persian Gulf War, as well as the Southwest Asia Service Medal with Bronze Star for meritorious service.  He was also awarded the Purple Heart for his selfless service to his country.

A native to New York, and finally settling in Sierra Vista, Arizona, 1SGT Mendez was active in the community by coaching Little League baseball and soccer.  Staying true to his roots, he was an avid Yankees and Giants fan, and he enjoyed sharing that love of sports with his three children.  1SGT Mendez was funny, loyal and extremely intelligent. His family and friends are very proud of him and his service to his country.

One of 1SGT Mendez's daughters is a Folds of Honor Scholarship recipient.