Soldier Honored: Charles R. Soltes, Jr.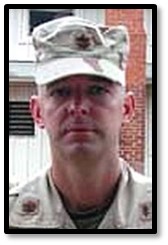 Dates:
Died October 13, 2004
Hometown:
Irvine, California
Branch of Service:
Army
Rank:
Major
Army Major Charles R. Soltes, Jr., 36, of Irvine, Calif., was assigned to the 426th Civil Affairs Battalion, U.S. Army Reserve, Upland, Calif. He was killed on October 13, 2004, when an explosive device struck his convoy as it returned from a local hospital in Mosul, Iraq.

The son of an Army officer and Vietnam veteran, MAJ Soltes attended Norwich University, a military school in Vermont. He was class president and graduated in 1990 as a second lieutenant. He joined the Army Reserves in 1990 and served on active duty in Texas, South Korea, and West Point, New York. MAJ Soltes was an optometrist and was working to help rebuild the public health infrastructure in Mosul.

MAJ Soltes loved to fish and camp, and he played rugby in college. The Soltes family – which included his wife and two sons – lived in Irvine.  At the time of MAJ Soltes' death, his wife was eight months pregnant with the couple's third child.

All three of his children have been Folds of Honor scholarship recipients.