Soldier Honored: Lowell T. Miller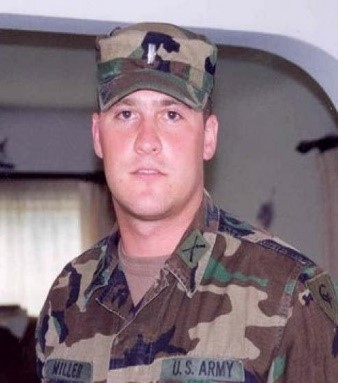 Dates:
Died August 31, 2005
Hometown:
Flint, MI
Branch of Service:
Army
Rank:
Captain
Captain Lowell T. Miller II, 35, of Flint, Michigan, was assigned to the 1st Battalion, 155th Infantry Regiment, Mississippi National Guard based out of McComb, Mississippi. On August 31, 2005, while serving during Operation Iraqi Freedom, CPT Miller was killed when his military team, which was conducting operations with the Iraqi Army, came under attack by enemy forces using small arms in Iskandariyah, Iraq.

A 1993 graduate of Virginia Military Institute, where he earned his bachelor's degree in electrical engineering. CPT Miller later joined the Michigan Army National Guard. He worked for automotive supplier Yazaki North America Inc. as an engineering supervisor. Eric Leszczynski, who was CPT Miller's supervisor at Yazaki North America Inc. said, "He did this for love of country and for duty. If you gave him something to do, it would get done. He would get everyone going."

There was only one man who CPT Miller wanted to have pink military bars to his uniform, one man he wanted to salute after being commissioned as an officer: his father. "Dad, I serve so others don't have to," he once wrote to his father, who served 22 years in the Naval Reserves. "You taught me to be a leader, to stand up and sacrifice so others would not have to. You were in the military and served so your kids wouldn't, yet we do. You taught us well."

CPT Miller's daughter is a Folds of Honor scholarship recipient.