Soldier Honored: Eugene Henry Eli Alex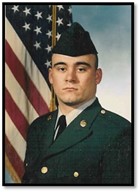 Dates:
Died September 2, 2006
Hometown:
Bay City, Michigan
Branch of Service:
Army
Rank:
Staff Sergeant
Staff Sergeant Eugene Henry Eli Alex, 32, was assigned to 4th Squadron, 14th Cavalry Regiment, 172nd Stryker Brigade Combat Team, at Fort Wainwright, Alaska.  SSG Alex valiantly served during Operation Iraqi Freedom.  SSG Alex was wounded by small-arms fire on his 32nd birthday, August 30, 2006.  He died September 2, 2006, in Landstuhl Regional Medical Center, Landstuhl, Germany, of injuries sustained in that attack.

SSG Alex joined the Army in May 1996 after he recently married and had been working at a granary, when he decided to enlist so that he could better provide for his family.  SSG Alex deployed to Iraq in 2005, and a few months into the deployment his vehicle hit a roadside bomb. He suffered a concussion and whiplash and was flown back home for convalescent leave. He returned to Iraq, where he stood by on radio watch and worked around the forward operation camp. He stayed in this position for the remainder of his deployment. As his brigade was preparing to come home, the violence in Baghdad had spiraled out of control. Alex requested that he be returned to a line unit so he could return to duty with fellow soldiers. His request was granted, and he was again serving alongside the men of Charlie Troop prior to his fatal wound.  SSG Alex was awarded the Purple Heart for his selfless service to his country.

SSG Alex was born on August 30, 1974, in Saginaw, Michigan.  He was married for nine years and had three children.  He enjoyed fishing, hunting, woodworking and making his wife go camping. SSG Alex loved making memories with his children.  His wife said, "Eugene was not just a soldier, he was a loving caring friend, husband and father. He loved his family very much."

One of SSG Alex's sons is a Folds of Honor Scholarship recipient.