Soldier Honored: David J. Todd, Jr.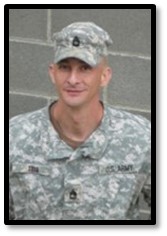 Dates:
Died August 20, 2008
Hometown:
Marrero, Louisiana
Branch of Service:
Army
Rank:
Sergeant First Class
U.S. Army Sergeant First Class David J. Todd, Jr. of Marrero, La., was assigned to Company D, 101st Forward Support Battalion, 1st Brigade, Fort Riley, Ks.  He was working with the Afghan Regional Security Integration Command-West, Herat, Afghanistan in his first deployment to the country.  On August 20, 2008, American soldiers were involved in a nine-hour battle in which a twelve-man patrol was in dire need of extraction from overwhelming Taliban forces. SFC Todd organized a QRF (Quick Reaction Force) and came to the aid of his men. He served as a gunner during the fight and saved his 12 brothers through a barrage of small arms fire and rocket propelled grenade impacts.  Sadly, SFC Todd was killed during the extraction of the patrol.

A former ROTC instructor at Tulane University, SFC Todd volunteered for duty in Afghanistan.  He served as a cavalry scout, joining the Army in 1991.  He was assigned to the Orleans Battalion as an instructor at Tulane from 2003 until he volunteered to join a "military transition team," a small unit trained to help Afghani and Iraqi troops assume control of their countries. SFC Todd lived by the motto: "No man left behind." He was a runner and strong advocate for physical fitness.

SFC Todd is survived by a wife and five children, one of which is a Folds of Honor Scholarship recipient.