Soldier Honored: Russell Edward Madden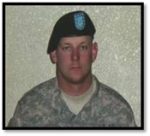 Dates:
Died June 23, 2010
Hometown:
Bellevue, Kentucky
Branch of Service:
Army
Rank:
Specialist
Specialist Russell Edward Madden was assigned to the 1st Squadron, 91st Cavalry Regiment, 173rd Airborne Brigade Combat Team, of the Conn Barracks, Germany.  SPC Madden died on June 23, 2010, in a rocket-propelled grenade attack on his convoy in Afghanistan, during Operation Enduring Freedom. He was only 29.

A graduate of Bellevue High School, SPC Madden was a standout athlete in football.  His dedication and competitive drive on the gridiron carried over into his military career. SPC Madden served as a driver and gunner of a Mine-Resistant Ambush-Protected vehicle with Troop D, 1st Squadron, 91st Cavalry Regiment. While deployed to Logar province, Madden completed more than 85 missions outside the wire.  Fellow paratroopers remembered him fondly: "his fellow soldiers counted on him to make things happen when times were tough.  Madden would never leave his buddies in a bad situation."  SPC Madden was awarded the Purple Heart for his selfless service to his country.

One of his two sons recalls this about his father, "he was my biggest role model when I was growing up. He taught me everything I needed to know about being a man. The things he taught me were so simple that I didn't realize what he was doing at the time. Fake shaving, always letting girls in the door first, not eating 'til everyone has food and seated. Finally making sure I always kept my presentation up. You represent your family wherever you go. You never know who you'll meet, and you must always create a stunning first impression."  SPC Madden showed people that they are part of something bigger than themselves.

SPC Madden's wife and children are all Folds of Honor Scholarship recipients.