Soldier Honored: Mario D. Carazo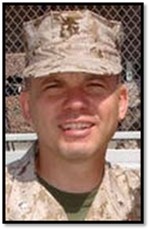 Dates:
July 22, 2010
Hometown:
Springfield, OH
Branch of Service:
Marine Corps
Rank:
Lieutenant Colonel
Lieutenant Colonel Mario Carazo, 41, of Springfield, Ohio was assigned to the Marine Aircraft Group 39, 3rd Marine Aircraft Wing, I Marine Expeditionary Force, Camp Pendleton, California. On July 22, 2010, while serving during Operation Enduring Freedom, Lieutenant Colonel Mario D. Carazo was lost when his AH-1W Super Cobra helicopter went down during engaged combat in Helmand province, Afghanistan.

LtCol Carazo was the youngest of four children and graduated from Cerritos High School. He earned his bachelor's degree from the United States Naval Academy in 1991. LtCol Carazo went on to fly the AH-1W Cobra with the World Famous HMLA-369 "Gunfighters" at Camp Pendleton, California. He attended the Amphibious Warfare School in Quantico, Virginia, and then went back to Camp Pendleton for another tour as a "Gunfighter". LtCol Carazo attended the United States Naval War College, where he received an M.A. in National Security and Strategy. He was not satisfied with one M.A., so he attended the School of Advanced Warfighting and received his second in Operational Studies. He was promoted to Lieutenant Colonel in December 2007 and returned from Iraq in August 2008 to Camp Pendleton, becoming the Executive Officer of MAG-39, and ultimately the Commanding Officer of Headquarters Squadron 39. He received his Wings of Gold in 1994 and earned several awards that included the Bronze Star Medal, Purple Heart Medal, and Meritorious Service Medal with gold star, Navy-Marine Corps Commendation Medal, and Navy-Marine Corps Achievement Medal with gold star.

LtCol Carazo would do whatever was possible to ensure the safety and well-being of everyone he cared about – his family, both immediate and extended.

His children are recipients of the Folds of Honor Scholarship.