Soldier Honored: Nicolas D. Parada-Rodriguez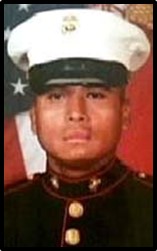 Dates:
Died May 16, 2010
Hometown:
Stafford, VA
Branch of Service:
Marine Corps
Rank:
Corporal
Corporal Nicolas D. Parada-Rodriguez, 29, of Stafford, Virginia Cpl Parada-Rodriguez was lost on May 16, 2010 while supporting combat operations in Marjah, Afghanistan.

A graduate of Robert E. Lee High School in 1999, Cpl Parada-Rodriguez came to the United States when he was five years old with his family, immigrating from Es Salvador. He joined the Marines in January of 2007 because he wanted to serve his new country.

His family described him as bighearted, family-oriented, and always striving to be a leader. Cpl Parada-Rodriguez didn't have any kids of his own, but he loved to sit with his nieces and nephews and always encouraged them to do positive things with their own lives. He is survived by his wife, Shada, his mother, father, two sisters and brother along with several nieces and nephews.

His wife is a Folds of Honor Scholarship recipient.