Soldier Honored: Aaron Dean White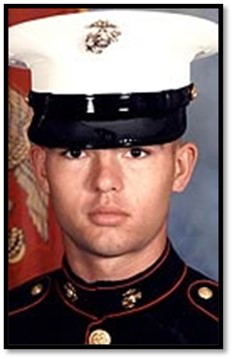 Dates:
Died May 19, 2003
Hometown:
Shawnee, Oklahoma
Branch of Service:
Marine Corps
Rank:
Staff Sergeant
Staff Sergeant Aaron White, 27, of Shawnee, Oklahoma, was assigned to Marine Medium Helicopter Squadron 364, Marine Aircraft Group 39, 3rd Marine Aircraft Wine, Camp Pendleton, California. On May 19, 2003, while sending during Operation Iraqi Freedom, SSgt White was lost when their CH-46 Sea Knight helicopter went down in the Shatt al Hilah Canal shortly after takeoff. It had been on a resupply mission in support of civil-military operations.

SSgt White grew up in a small town in rural Oklahoma, where he rode horses and learned to drive on back roads. He was a volunteer firefighter in Sasakwa before he could even drive and would go out on calls with his dad. The family moved to a larger town, Shawnee, where he graduated in 1994 from high school and soon afterward went into the military. While in high school, he enlisted in the delayed entry program and began training sessions on the weekends of his senior year. SSgt White was a hard worker and a people person - he always wanted to help. He volunteered to be a gunner on the chopper when he went to Iraq so he could have the opportunity to fly. "I think he had the calling to serve. He had to serve somebody, serve our country, serve the people," his mother, Karen White said. "He needed the challenge the Marine Corps would give him."

He is survived by his wife, Michele, and 1-year-old daughter. He loved his wife, Michele, and daughter very much and told his dad that he never knew he could have so much love and so much fun being a daddy.

His daughter is a recipient of the Folds of Honor Scholarship.