Soldier Honored: Joshua J. Kirk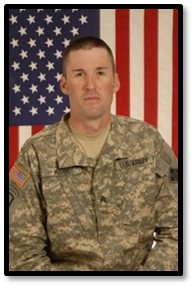 Dates:
October 3, 2009
Hometown:
Colorado Springs, CO
Branch of Service:
Army
Rank:
Sergeant
Army Sergeant Joshua J. Kirk, 30, of Colorado Springs, Colo., was assigned to the 3rd Squadron, 61st Cavalry Regiment, 4th Brigade Combat Team, 4th Infantry Division, Fort Carson, Colo.  On October 3, 2009, SGT Kirk was serving as a cavalry scout in Afghanistan under Operation Enduring Freedom when he and seven other servicemen died as enemy forces attacked their contingency outpost with small arms fire and rocket-propelled grenades.

SGT Kirk was born in Thomaston, Maine, and grew up near Bonner's Ferry, Idaho. He attended Camden Hills Regional High School and Southern Maine Community College. He enlisted in the Army in 2005. Kirk's troops saw him as being unafraid, unthreatened, and, at times, unrestrained. As the story goes, most of the men at the outpost were tough, but Kirk, "he was crazy brave-fearless."  SGT Kirk served two tours in Afghanistan – his first tour of duty was for 15 months, and his second tour started in May 2009. He and believed in what he was fighting for and was a highly decorated soldier.

SGT Kirk's daughter is the recipient of the Folds of Honor Scholarship.