Soldier Honored: Elvis Bourdon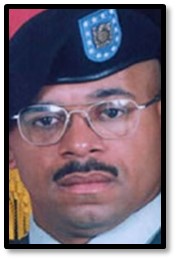 Dates:
September 6, 2004
Hometown:
Youngstown, OH
Branch of Service:
Army
Rank:
Staff Sergeant
Army Staff Sergeant Elvis Bourdon, 36, of Youngstown, Ohio, was assigned to Company C, 1st Battalion, 9th Cavalry Regiment, 3rd Brigade, 1st Cavalry Division, Fort Hood, Tex. On September 6, 2004, while patrolling in Baghdad, Iraq, the military vehicle he was in came under attack by enemy forces using small-arms fire and grenades. SSG Bourdon died of injuries suffered in the attack.

Born in Aguadilla, Puerto Rico, Elvis Bourdon spent the majority of his youth growing up in Ohio.  He was an avid NASCAR fan, a volunteer at public schools and was also a member of the 33rd Street Chapel Catholic Services. As a non-commissioned officer, SSG Bourdon would train, mentor, befriend, and leave his mark on young soldiers – especially if it was their first deployment.

He was a Veteran Master Gunner and served our nation for over 16 years. During his tenure, SSG Bourdon served at Fort Benning, Fort Ord, Camp Hovey, Fort Carson, Fort Hood and Camp Casey.   He was deeply loved and respected by those with whom he served.   While in Iraq, his unit spent most of their time patrolling the notorious Haifa Street, which was known for its frequent rocket and grenade attacks. SSG Bourdon's decorations include the Bronze Star Medal, Purple Heart, Army Commendation Medal (4th award), Korean Defense Service Medal and many others.

SSG Bourdon is survived by his wife and young daughter, who later became a Folds of Honor scholarship recipient.