Soldier Honored: Nathan Lee Wyrick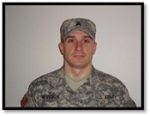 Dates:
October 10, 2011
Hometown:
Enumclaw, Washington
Branch of Service:
Army
Rank:
Staff Sergeant
Army Staff Sergeant Nathan L. Wyrick was part of the 1st Battalion, 32nd Infantry Regiment, 3rd Brigade Combat Team, 10th Mountain Division, Fort Drum, New York. He and his unit were supporting Operation Enduring Freedom, where he was a Supply Specialist. SSG Wyrick died on October 10, 2011, of combat-related injuries during combat operations in Ahmad Khan, Afghanistan.

SSG Wyrick was born in Palm Springs, California and grew up in the Puyallup, Washington area before finding his way to Enumclaw, Washington.  He joined the service after first pursuing a career as a civilian electrician.  He served his first 4-year tour at Joint Base Lewis-McChord, Washington. SSG Wyrick was deployed for a year to Iraq and was serving his 2nd tour in the U.S. Army at Fort Drum, New York.  He was a 1996 graduate of Franklin Pierce High School who played for the school's varsity football team.

SSG Wyrick was a family man, proud of his wife and four sons. When remembering SSG Wyrick, his wife stated "You don't find a lot of hands-on dads.  He was so good with kids, and he was such a good person to me. He's awesome. He's my best friend."   He was a passionate dad who desperately loved his family and served in the military to honor and protect them.  It was important to SSG Wyrick that he be a father first and foremost, and a soldier second.  SSG Wyrick was a generous man, who was known to never have a bad thing to say about others.

Two of SSG Wyrick's sons are Folds of Honor Scholarship recipients.