Soldier Honored: Jamie L. Huggins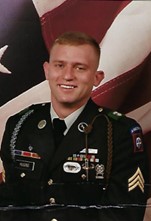 Dates:
October 26, 2003
Hometown:
Hume, MO
Branch of Service:
Army
Rank:
Staff Sergeant
Staff Sergeant Jamie L. Huggins, 26, of Hume, Missouri was assigned to the 2nd Battalion, 325th Airborne Infantry Regiment, 82nd Airborne Division, Fort Bragg, North Carolina. On October 26, 2003, while serving during Operation Iraqi Freedom, SSG Huggins was killed while on patrol when his vehicle was hit with an improvised explosive device in Baghdad.

SSG Huggins grew up in Worland, Missouri, population 50. He was one of nine seniors in his 1996 graduation class at Hume High School, where he played guard on the basketball team. He hauled hay in his spare time. He enjoyed hunting, fishing for bass in nearby abandoned coal pits and fixing up cars. SSG Huggins had an ambitious side as well. He wanted to leave his small town, get an education, make money for college, and see something of the world, friends said, so in 1997, he enlisted in the Army. He spent time in Hawaii and North Carolina before heading to the Middle East. SSG Huggins left for Iraq with the 82nd Airborne the same week his first child was born in March. This would be the only time he would see his daughter, his wife, Marissa, said. SSG Huggins was supposed to return to the United States in November. He was going to join the 75th Ranger Regiment.

SSG Huggins was a family man that was dedicated to his wife and daughter. He was a proud soldier. SSG Huggins was posthumously awarded the Bronze Star and the Purple Heart.

SSG Huggins daughter is a Folds of Honor Scholarship recipient.