Soldier Honored: Anthony O. Magee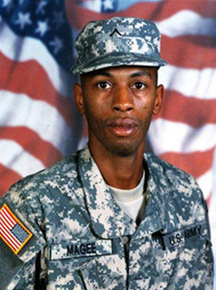 Dates:
Hometown:
Branch of Service:
Army
Rank:
Sergeant
Sergeant Anthony O. Magee, 29, of Hattiesburg, Miss., was assigned to the 2nd Battalion, 69th Armor Regiment, 3rd Heavy Brigade Combat Team, 3rd Infantry Division at Fort Benning, Ga., and served during Operation Iraqi Freedom. On April 10, 2010, Sgt. Magee was killed when his unit was attacked with indirect fire in Iskandariyah, Iraq.

Sgt. Magee was serving his second tour of duty in Iraq when he died. According to Col. Robert Ashe, after being wounded, Magee was moved to safety by another injured Soldier. Immediately, other Soldiers came to help, using the shirts off their backs as bandages. Tireless efforts were taken to save his life at the COS Kalsu aid station, the hospital in Balad, Iraq, and finally the hospital in Germany where he passed. Magee's final act was to serve as an organ donor. At the memorial service, Ashe said the actions of all involved gave Magee's family time to say their final goodbyes.

"He was one of the nicest young men you'd ever want to come into contact with," said Dennis Davis, Sgt. Magee's uncle. "He had a great sense of humor, he had the biggest heart."

"He would not have wanted me to stand here today and dwell on the negativity of the situation," said Spc. Bryan Hammers said. "If Magee were here today, I guarantee you his exact words would be, 'Quit crying about it; life's too short.'"

Sgt. Magee's wife is a Folds of Honor Scholarship recipient.