Soldier Honored: Thomas G. Derrickson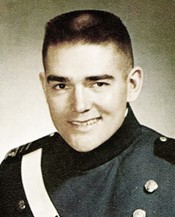 Dates:
Hometown:
Branch of Service:
Air Force
Rank:
Lieutenant Colonel
Lieutenant Colonel Thomas G. Derrickson was a member of the 557th Tactical Fighter Squadron, Can Ron Bay, Airbase, South Vietnam. He and 1Lt. John K. Hardy Jr. comprised the crew of an F4C Phantom jet assigned an armed reconnaissance mission over North Vietnam on October 12, 1967. Lt. Col. Derrickson and Hardy were in the lead aircraft in a flight of two. Over Quang Binh Province, they sighted ground targets and radioed to their wingman that they were "rolling in." Shortly thereafter, the wingman saw a flash of yellow light followed by a fire and a cloud of black smoke. Attempts to contact them were unsuccessful.

Lt. Col. Derrickson was born in Los Altos, Calif., on March 10, 1936. He was a graduate of Mountain View Union High School and the University of California, Berkley. He went on to graduate from the United States Air Force Academy in 1959.

Lt. Col. Derrickson is memorialized at the Courts of the Missing at the Honolulu Memorial and is honored on the Vietnam Veteran's Memorial in Washington DC – Panel 27e, Line 97. He received the Purple Heart and the Air Medal which is awarded for single acts of heroism or meritorious achievement while participating in aerial flight.