Soldier Honored: David P. Mahlenbrock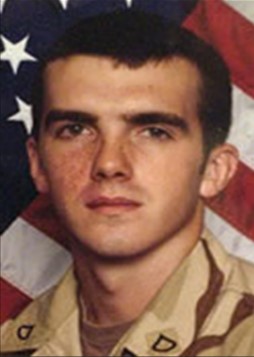 Dates:
Hometown:
Branch of Service:
Army
Rank:
Specialist
Specialist David P. Mahlenbrock, 20, of Maple Shade, N.J., was assigned to the 65th Engineer Battalion, 25th Infantry Division at Schofield Barracks, Hawaii, and served during Operation Iraqi Freedom. On December 3, 2004, Spc. Mahlenbrock was killed when an improvised explosive device detonated as he was clearing a route in Kirkuk, Iraq.

Friends and family remember a man who gave everything his all, from his days as a scrappy football player and wrestler at Maple Shade High School to a soldier fighting for his country. Spc. Mahlenbrock joined the U.S. Army after graduating high school in 2002 and left for Iraq the following January, planning a career in the military. "Devotion was written all over David's life," said the Rev. Carl E Joecks. Spc. Mahlenbrock received the Purple Heart, Bronze Star, Global War on Terrorism Expeditionary Medal and the Hawaii Medal of Honor.

When Spc. Mahlenbrock became a father in September 2004, he threw himself into that role with passion. When he returned home on leave to see his wife and new daughter, then about a week old, he could not put her down. "He threw a lifetime of fatherly love into that two-week leave," said Joeks. "He always had an effect on those who met him. He would do crazy things just to get someone to smile."

Spc. Mahlenbrock's daughter is a Folds of Honor Scholarship recipient.