Soldier Honored: Roy P. Lewsader, Jr.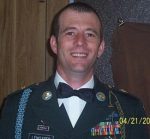 Dates:
Hometown:
Branch of Service:
Army
Rank:
Staff Sergeant
Staff Sergeant Roy P. Lewsader, Jr, 36, of Clinton, Ind., was assigned to the 1st Brigade, 1st Infantry Division at Fort Riley, Ks., and served during Operation Enduring Freedom. On June 16, 2007, Staff Sgt. Lewsader was killed when his vehicle was struck by a rocket propelled grenade in Tarin Kowt, Afghanistan.

Staff Sgt. Lewsader was a graduate of South Vermillion High school and enlisted in the Army on his 17th birthday in 1988. He did two tours of duty in Korea and was on his second tour in support of the current U.S. military efforts in Afghanistan and Iraq when he was killed. Staff Sgt. Lewsader was posthumously awarded the Purple Heart and a Bronze Star medal.

Staff Sgt. Lewsader's wife said the soldier loved music and played the guitar. When he packed his bags, gearing up for deployment, she said he dismantled his guitar, so he could take it with him. It was not long before her husband called her from Afghanistan and told her he had forgotten to pack his guitar amplifier. She remembers her husband asking, "'Can you send the amp?' "Do you know how much it will cost for me to mail that?" she said back to him. Staff Sgt. Lewsader's wife had a smile on her face while remembering her husband.

Staff Sgt. Lewsader's daughter is a Folds of Honor Scholarship recipient.