Soldier Honored: Victor A. Rosales-Lomeli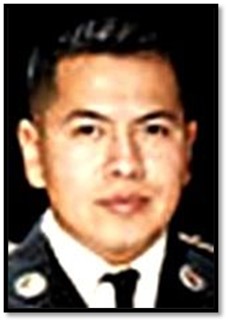 Dates:
Hometown:
Branch of Service:
Army
Rank:
Staff Sergeant
Staff Sergeant Victor A. Rosales-Lomeli, 29, of Westminster, Calif., was assigned to the 2nd Battalion, 2nd Infantry Division, Vilseck, Germany. On April 13, 2004, Staff Sgt. Rosales-Lomeli was killed when his convoy was ambushed south of Baghdad, Iraq.

Staff Sgt. Rosales-Lomeli graduated from Westminster High school in 1995. During his time with the Army, Staff Sgt. Rosales-Lomeli compiled an impressive number of awards including his Ranger tab, Air Assault badge, and earning 3 25-mile Manchu Road March belt buckles while stationed in Korea. He was posthumously awarded the Bronze Star and Purple Heart Medals.

Staff Sgt. Rosales-Lomeli and his wife, Sgt. Sandra Rosales, both served in Iraq while relatives cared for their infant son. His fellow soldiers remember him as a tough, medaled infantryman with a twinkle in his eyes and very popular with others. He became a US citizen while serving in the Army. "He was proud to be a solider and I am proud to be a soldier as well," said his wife.

SSG Rosales-Lomeli's son is a Folds of Honor Scholarship recipient.