Soldier Honored: Wardell B. Turner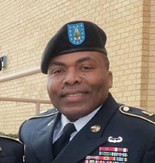 Dates:
Hometown:
Branch of Service:
Army
Rank:
Sergeant Major
Army Sergeant Major Wardell Turner, 48, of Nanticoke, Md., was assigned to Headquarters, U.S. Army Garrison, Fort Drum, N.Y., and served during Operation Enduring Freedom.  On November 24, 2014, SGM Turner was killed during a vehicle-borne improvised explosive device attack in Kabul, Afghanistan.

SGM Turner graduated from Bennett High School in 1984 and was a member of their championship football team.  He attended Towson University on a football scholarship, where he graduated in 1989 with a bachelor's degree in management.  SGM Turner enlisted in the Army in 1993 and served globally in places such as Germany, South Korea, Bosnia, and Iraq. He climbed up the enlisted ranks, earning the title of SGM in 2013. Over his 21-year military career, SGM Turner received various medals and ribbons for his work, ranging from the Bronze Star to a Purple Heart.

Daniel Savoy, an administrator at Bennett High School, remembers Turner as someone willing to help. "The way he carried himself and so forth resembled that of military personnel; he walked with a purpose. I could ask him for help of any kind, and he would be more than willing to help me or anyone else," Savoy said.

"My husband was a leader, friend and mentor to many", said his wife, Katherine.  "He was an encourager and always put family first, thus he led with his soldiers' families in mind'."

SGM Turner's son is a Folds of Honor Scholarship recipient.