Soldier Honored: Bradley W. Atwell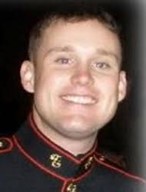 Dates:
Hometown:
Branch of Service:
Marine Corps
Rank:
Sergeant
Sergeant Bradley W. Atwell, 27, of Kokomo, Ind., was assigned to the Marine Aviation Logistics Squadron 13, Marine Aircraft Group 13, 3rd Marine Aircraft Wing, I Marine Expeditionary Force (Forward) and served during Operation Enduring Freedom. On September 15, 2012, Sgt. Atwell was killed when insurgents breached the base at Camp Bastion, Afghanistan.

Sgt. Atwell graduated from Taylor High School in 2003. He went on to attend Thomas Edison State College while in Afghanistan, where he was only a few credits shy of his associate degree. While there, he was logging hours to obtain his journeyman's license. After a short stay in the Air Force he joined the United States Marine Corps, where he worked as an aviation electrician. Sgt. Atwell's awards include the Purple Heart, the Marine Corps Good Conduct Medal (2nd Award), the Afghanistan Campaign Medal, the Global War on Terrorism Service Medal, the National Defense Service Medal and the NATO Service Medal.

Sgt. Atwell was a member of the Freemasons Lodge of Russiaville, Ind. He had a passion for firearms and enjoyed off-roading in his truck. He was also a brown belt in MCMAP and enjoyed playing and watching baseball. He enjoyed skateboarding, listening to music, telling jokes, and making the people around him laugh. He was a very loving husband, son, and brother, but most importantly an extremely courageous Marine.

Sgt. Atwell's wife is a Folds of Honor Scholarship recipient.