Soldier Honored: Jonathan W. Gifford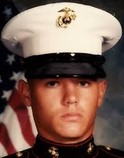 Dates:
Hometown:
Branch of Service:
Marine Corps
Rank:
Gunnery Sergeant
Gunnery Sergeant Jonathan W. Gifford, 34, of Palm Bay, Fla., was assigned to the 2nd Marine Special Operations Battalion at Camp Lejeune, N.C., and served during Operation Enduring Freedom. On July 20, 2012, Gy. Sgt. Gifford and another soldier were killed while conducting combat operations in Badghis province, Afghanistan.

Gy. Sgt. Gifford, a former reconnaissance Marine, completed nearly fifteen years of service at the time of his death. He had been honorably discharged from the Corps in July 2001 but donned the uniform again just over a year later as the war in Afghanistan was beginning. Gy. Sgt. Gifford joined MARSOC (Marine Corps Forces Special Operations Command) in 2006, shortly after his unit was activated, working as a chief instructor of the MARSOC advanced sniper course before becoming a team chief. Extraordinary heroism, decisive actions, bold initiative, and dedication to duty led Gy. Sgt. Gifford to be posthumously awarded the nation's second-highest award for valor in combat, the Navy Cross.

"When you recognize a stellar Marine and his exceptional courageousness and bravery, I'm not sure you can ever go above and beyond, and the Navy Cross is truly deserving and worthy of Gy. Sgt. Gifford and his sacrifices," said General John M. Paxton. "His leadership and what he meant to his immediate family, his extended family and to his Marine family."

Four of Gy. Sgt. Gifford's sons are Folds of Honor Scholarship recipients.