Soldier Honored: John P. Pryor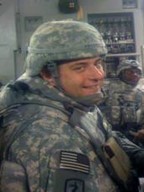 Dates:
Hometown:
Branch of Service:
Army
Rank:
Major
Major John P. Pryor, 42, of Moorestown, N.J., was assigned to the 1st Medical Detachment, Forward Surgical Team, Fort Totten, N.Y., and served during Operation Iraqi Freedom. On December 25, 2008, Maj. Pryor was killed when a mortar round impacted near his living quarters in Mosul, Iraq.

Maj. Pryor graduated from Shenendehowa High School in 1984 and from the University of Binghampton in 1988. He attended St Georges' School of Medicine in Granada. He completed Medical School and received his surgical training at the University of Buffalo. After fellowship training in trauma surgery and critical care at the University of Pennsylvania, he joined the staff of UPenn. On Sept 11, 2001, Dr. Pryor immediately responded to the attack on the World Trade Center. He spent that night on the "pile" assisting firefighters and first responder personnel. He enlisted in the Army Reserves shortly after 9/11. Maj. Pryor was posthumously awarded the Purple Heart and Bronze Star Medals for his service and sacrifice.

"John was a man who truly believed that service to others was his calling," said Dr. C. Williams Schwab, chief of trauma surgery and critical care at the hospital at the University of Pennsylvania. "Whether it was volunteering at Ground Zero on 9/11 or with the Army, or serving the people of the community, that was what he was all about."

Two of Maj. Pryor's children are Folds of Honor Scholarship recipients.