Soldier Honored: Andrew W. Harvell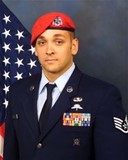 Dates:
Hometown:
Branch of Service:
Air Force
Rank:
Staff Sergeant
Staff Sergeant Andrew W. Harvell, 26, of Long Beach, Calif., was assigned to the 24th Special Tactics Squadron, Pope Field, N.C., and served during Operation Enduring Freedom. On August 6, 2011, Staff Sgt. Harvell was killed when the CH-47 Chinook helicopter he was riding in crashed in Tangi Valley, Wardak province, Afghanistan.

After graduating from Millikan High School in June 2002, Staff Sgt. Harvell enlisted in the Air Force. Upon graduation from Basic Training, he immediately entered the Combat Control training pipeline. Over the next 24 months, Staff Sgt. Harvell completed numerous Air Force and joint service training courses, and was then assigned to the Special Tactics Training Squadron, where he completed the Special Forces Combat Dive course, Special Forces Military Freefall school and all upgrade requirements for combat-mission-ready status as a Combat Controller. He was a Static-Line Jumpmaster. Staff Sgt. Harvell's military awards include a Bronze Star Medal with one Oak Leaf Cluster, the Purple Heart Medal and the Joint Service Commendation Medal, in addition to many others for his service and sacrifice.

"Harvell was put to the test in the combat controller pipeline, a grueling two years of training, but he never gave up and instilled confidence in everyone around him," a lieutenant colonel said. "He attacked every day at full-throttle, with passion and love of his family and brothers-in-arms, which was exactly what our nation needed on the battlefield."

Both Staff Sgt. Harvell's sons are Folds of Honor Scholarship recipients.