Soldier Honored: Harry A. Winkler III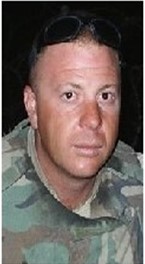 Dates:
Hometown:
Branch of Service:
Army
Rank:
Specialist
Specialist Harry A. (Buck) Winkler, III, 32, of Clarksville, Tenn., was assigned to the 2nd Battalion, 505th parachute Infantry Regiment, 3rd Brigade Combat Team, 82nd Airborne Division, at Fort Bragg, N.C., and served during Operation Iraqi Freedom. On November 12, 2006, Spc. Winkler was killed when an improvised explosive device detonated near his vehicle during combat operations in Samarra, Iraq.

Spc. Winkler was 28 when he decided to join the Army. He watched his younger brother David graduate from Air Force boot camp in 2001 – months before the 9/11 attacks – and he wanted to do something to change his life. Before he could report for training in 2002, he had to shed 50 pounds from his 6-foot 2-inch frame. After his first tour ended, he tried civilian life, but he loved being in the Army. Spc. Winkler rejoined the Army in November 2005 and deployed to Iraq on August 10, 2006. Spc. Winkler was posthumously awarded the Bronze Star Medal and Purple Heart, in addition to being promoted from Private First Class to Specialist.

Spc. Winkler's fellow soldiers describe him as bright, mature, optimistic and an inspiration to the unit. He was looking forward to returning home at Christmastime for his son's first birthday. "He was bright, mature and optimistic," said Lt. Col. Viet Luong, commander, 2nd Battalion, 505th Parachute Infantry Regiment. "His platoon will miss his humor and superb leadership."

Spc. Winkler's son is a Folds of Honor Scholarship recipient.