Soldier Honored: Christopher F. Pfeifer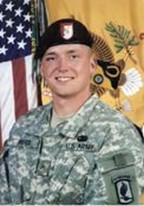 Dates:
Hometown:
Branch of Service:
Army
Rank:
Private First Class
Private First-Class Christopher F. Pfeifer, 21, of Spalding, Neb., was assigned to the 1st Squadron, 91st Cavalry Regiment, 173rd Airborne Brigade Combat Team in Schweinfurt, Germany. On September 25, 2007, PFC Pfeifer was killed when insurgents attacked his unit using small-arms fire near Kamu, Afghanistan.

PFC Pfeifer attended grade school and junior high at Spalding Public School and graduated in the spring of 2005 from Pine Ridge High School. He worked heavy equipment construction and dry wall finishing at a family friend's shop for about 18 months. PFC Pfeifer entered the Army in April 2006 and entered Airborne Training after graduating from Basic Training. PFC Pfeifer was posthumously awarded the Purple Heart for his wounds received in combat.

"He's a big loss, not only in my heart, but for the Army and the world in general," said PFC Michael Delsarto, who served with PFC Pfeifer. "He stood for good things."  His wife gave birth to their daughter two days after his death. One fellow soldier said PFC Pfeifer's legacy would live on in the daughter he never got to see. "I know she may not know Chris physically," said SSG Ryan Jones, who served in PFC Pfeifer's unit. "But she will know him spiritually, and he'll be in her life forever."  PFC Pfeifer will always be remembered as a loving and caring man. He enjoyed fishing, hunting, golfing, weightlifting, music and playing his drums.

PFC Pfeifer's daughter is a Folds of Honor Scholarship recipient.