Soldier Honored: Charles S. Jirtle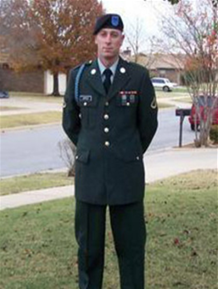 Dates:
Hometown:
Branch of Service:
Army
Rank:
Specialist
Specialist Charles S. Jirtle, 29, of Lawton, Okla., was assigned to the 2nd Battalion, 327th Infantry Regiment, 1st Brigade Combat Team, 101st Airborne Division (Air Assault) at Fort Campbell, and served during Operation Enduring Freedom. On June 7, 2010, Spc. Jirtle was killed when their vehicle struck an improvised explosive device in Konar, Afghanistan.

Spc. Jirtle grew up in Lawton and attended MacArthur High School. He worked many jobs, including with the City of Lawton, prior to enlisting in the U.S. Army. He also served in the Navy Reserves in Oklahoma City. Spc. Jirtle completed his basic training at Fort Benning, Ga., and deployed to Afghanistan. He also served a one-year tour of duty in Iraq from 2007 to 2008.

Spc. Jirtle, whom friends and loved ones knew as "Scott," had graduated to the realm of "an American hero" for his service to his country "As a person he was reliable, generous, and very bright. I am often told his smile lit up a room, that he always brought great energy, and that everybody loved him," Spc. Jirtle's daughter said. "My father was someone I looked up to. Now that I am older, I realize not everyone can do what he did. He was strong. He always picked me up when I was sad and told me to hold my head up."

Spc. Jirtle's daughter is a Folds of Honor Scholarship recipient.