Soldier Honored: George T. Alexander, Jr.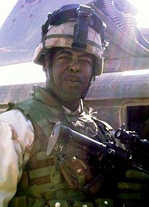 Dates:
Hometown:
Branch of Service:
Army
Rank:
Staff Sergeant
Staff Sergeant George T. Alexander, Jr., 34, of Killeen, Texas, was assigned to the 1st Battalion, 15th Infantry Regiment, 3rd Brigade, 3rd Infantry Division at Fort Benning, Ga., and served during Operation Iraqi Freedom. On October 22, 2005, Staff Sgt. Alexander was killed when an improvised explosive device detonated near his Bradley Fighting Vehicle in Samarra, Iraq.

A 1989 graduate of Chilton County High School, Staff Sgt. Alexander spent two years working as a construction laborer before enlisting in the Army in 1991. At the time of his death, Staff Sgt. Alexander was serving his eighth tour of duty in Iraq. The United States media noted this death above many others, as he was the 2,000th American soldier killed since the start of active combat in Iraq in 2003. Staff Sgt. Alexander was posthumously awarded the Purple Heart for his sacrifice.

Staff Sgt. Alexander was suited well for the Army, his sister, Sasha Spence said, and saw enlisting as a way to serve his community. "He really enjoyed being in the Army. He loved it," she said. "He just wanted to make a difference. That was his thing – just make a difference. He was very loving, never down and he always smiled."

Both Staff Sgt. Alexander's son and daughter are Folds of Honor Scholarship recipients.