Soldier Honored: Michael P. Cardenaz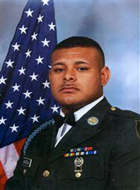 Dates:
Hometown:
Branch of Service:
Army
Rank:
Staff Sergeant
Staff Sergeant Michael P. Cardenaz, 29, of Corona, Calif., was assigned to the 2nd Battalion, 12th Infantry Regiment, 4th Brigade Combat Team, 4th Infantry Division at Fort Carson, Colo., and served during Operation Enduring Freedom. On February 20, 2010, Staff Sgt. Cardenaz was killed when enemy forces attacked his unit with rocket-propelled grenades in Chapa Dara, Afghanistan.

Staff Sgt. Cardenaz graduated from Corona High School and enlisted in the Army in 1998. He was awarded the Soldier's Medal, the highest non-combat honor a soldier can earn, for his attempt, in full gear, to save four other soldiers whose Humvee had plunged into a murky canal in Iraq. Staff Sgt. Cardenaz could not swim, yet he and an officer kept going down into the canal. They were too late to save the soldiers but kept at it until they retrieved everyone. Staff Sgt. Cardenaz was decorated with a Purple Heart, the Bronze Star Medal with one Oak Leaf Cluster, the Army Commendation Medal with a V-device, the Army Commendation Medal with two Oak Leaf Clusters, the Army Achievement Medal with six Oak Leaf Clusters and the Good Conduct Medal with two knots, in addition to many more for his service.

Staff Sgt. Cardenaz was an avid Los Angeles Dodgers fan, loved fishing, listening to music, driving around to new places and making people laugh. "He was the bravest mad I have ever met," said John Maldonado, a fellow soldier who served with Staff Sgt. Cardenaz in Kosovo and Germany.

Three of Ssg. Cardenaz's daughters are Folds of Honor Scholarship recipients.