Soldier Honored: Matthew C. Stephens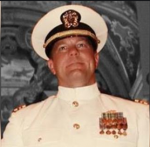 Dates:
Hometown:
Branch of Service:
Navy
Rank:
Lieutenant Commander
Navy Lieutenant Commander Matthew C. Stephens was not only a decorated officer in the Navy, but also served as a Major in the Army for a combined total of just under 14 years. While in the Navy, LCDR Stephens deployed on three tours to Afghanistan and one to the Philippines in support of Operations NOBLE EAGLE, IRAQI FREEDONIraqi Freedom and Enduring Freedom. As a result of his overseas deployments, LCDR Stephens suffered a traumatic brain injury and was later diagnosed with Post Traumatic Stress Disorder.

A native of Parsons, Kansas, LCDR Stephens graduated from the University of Oklahoma Dental School in 1999, but soon discovered being a dentist was not his only calling in life. He went on to become an amateur wrestler, MMA fighter, ordained minister and a gunsmith. He met and married the love of his life, Jennifer, and together they blended a beautiful family with six children. In 2013, LCDR Stephens was diagnosed with service-connected Stage IV cancer. This began a six-year battle which he won on May 9, 2019 at the age of 44.  LCDR Stephens didn't want his life to be defined by his courageous battle with cancer; rather, "he loved until his heart had no more to give. Cancer did not win!"

LCDR Stephen epitomized what an American patriot is supposed to be and will be forever remembered by his family and friends for the fierceness with which he loved them. His decorations include the National Defense Service Medal, Sea Service Deployment Ribbon (2nd award), Navy Commendation Medal (2nd award), Joint Meritorious Unit Award and many others. Four of his six children are current or former Folds of Honor scholarship recipients.