Soldier Honored: Michael C. Lloyd,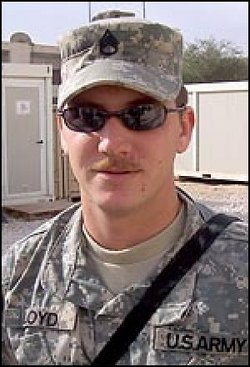 Dates:
Hometown:
Branch of Service:
Army
Rank:
Staff Sergeant
Army Staff Sergeant Michael C. Lloyd, 24, of San Antonio, Texas, was assigned to 10th Cavalry Regiment, 2nd Brigade Combat Team, 4th Infantry Division based in Fort Hood, Texas and served during Operation IRAQI FREEDOM. On August 12, 2006, SSG Lloyd and another soldier died of injuries sustained when an improvised explosive device detonated near his dismounted patrol during combat operations in Baghdad, Iraq.

SSG Lloyd attended Carroll High School and had a strong competitive spirit in his Soccer League.  While in the service, he worked as a squad leader and an operations non-commissioned officer in charge at the company level.

"He joined the military because he wanted to fill his life with purpose and that's exactly what the Army gave him.  He was loyal to his battle buddies and had an amazing sense of direction," his wife, Jessica, said.  "Chad moved through the ranks at a quick pace, making the rank of SSG in a little over 4 years. Soldiers respected him and his leadership leaned on him when they were in Iraq since he knew the area so well.  His battle buddies enjoyed his company on and off duty. Many of them still talk fondly of him today."

SSG Lloyd's son is a Folds of Honor Scholarship recipient.