Soldier Honored: Neil A. Prince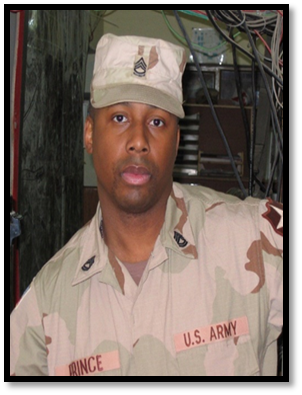 Dates:
Hometown:
Branch of Service:
Army
Rank:
Sergeant First Class
Army Sergeant First Class Neil Armstrong Prince, 35, of Baltimore, Maryland, was assigned to the 2nd Battalion, 17th Field Artillery Regiment, 2nd Brigade, 2nd Infantry Division based in Fort Carson, Colorado and served during Operation IRAQI FREEDOM.  On June 11, 2005, SFC Prince and another soldier were killed when an improvised explosive device detonated near their military vehicle in Taqaddum, Iraq.

SFC Prince, whose parents named him after the first astronaut to walk on the moon, was born in Jamaica and moved with his family to Baltimore when he was 10. He graduated from Baltimore City College in 1989.  He enlisted in the U.S. Army right after graduation and served a total of 16 years. As a chief fire control sergeant, he arranged the transportation of weapons to troops in combat.  SFC Prince was awarded the Bronze Star and Purple Heart posthumously, in addition to many other medals and honors for his service and sacrifice.

"My dad wanted to do something along the lines of being a soldier since he was a child. He was a great leader, never asking his troops to do anything he wasn't willing to do himself," his son said. "According to my family, my dad thought and talked about me when he was stationed in Korea and Iraq. I was 4 years old when I lost him."

SFC Prince's son is a Folds of Honor Scholarship recipient.