Soldier Honored: Andrew W. Harvell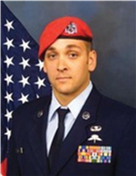 Dates:
Hometown:
Branch of Service:
Air Force
Rank:
Staff Sergeant
SSgt Andrew Harvell, 26, of Long Beach, Calif was assigned to the 24th Special Tactics Squadron, Pope Field, N.C. and served during Operation IRAQI FREEDOM. He was a combat controller whose job was to deploy undetected personnel into hostile environments to establish assault zones and conduct air traffic control at forward airfields while simultaneously conducting command of close air support. His unit is famous for being one of the most highly trained special operation forces in the U.S. military.

On August 6, 2011, in the Tanji Valley, Wardak Province of Afghanistan, Harvell suffered fatal wounds when the CH-47 Chinook helicopter in which he was traveling was shot down by insurgent air fire during a night raid. Those who served with Harvell remember him as one who could put combat mission pilots at ease with a smooth tone and confident manner to his voice.

SSgt Harvell attended Miliken High School in California. His football coach, Kurt Diego, remembered him as having the 'heart of a lion'.  "He had to" said Diego, "because he was too small, too slow, but not when you took into account his heart. It didn't surprise me at all when he chose to go into the military. He was always a guy that gave every ounce of whatever he had."

The Long Beach, California native is buried in Los Angeles National Cemetery. He is survived by his wife, Krista, and two sons, both of whom are Folds of Honor scholarship recipients.