Soldier Honored: Christopher J. Splinter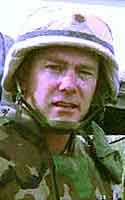 Dates:
Hometown:
Branch of Service:
Army
Rank:
Major
Army Major Christopher J. Splinter, 43, of Platteville, Wisconsin was assigned to the 5th Engineer Battalion, 1st Engineer Brigade, based in Fort Leonard Wood, Missouri and served during Operation IRAQI FREEDOM. On December 24, 2003, MAJ Splinter and two additional soldiers died near Samarra, Iraq, when the vehicle he was in hit a homemade bomb.

Major Splinter graduated from Platteville High School in 1979 and joined the ROTC program at the University of Wisconsin-Platteville in 1986. He graduated with a bachelor's degree in Business Administration in 1990. At first, he enlisted in the 389th Dubuque Reserves, then later became a commissioned officer in 1989 as a second lieutenant. Major Splinter was awarded the Bronze Star and Purple Heart for his service and sacrifice.

The Reverend, Charles Schulter, who led Major Splinter's funeral mass, called him a wonderful man, a loving husband and father. "He stood for generosity and kindness and stood to protect the things he cherished most."  LTC Bryan Watson, a friend who served with Major Splinter, called Major Splinter one of America's "great warriors" who was born to be a professional soldier and "cut from the finest fabric of our nation."  "He was nurtured to be a leader from the very outset." LTC Watson added Major Splinter learned hard work, integrity and discipline from his father. From his mother, he learned compassion and kindness towards others and from his four brothers and seven sisters, he learned "the importance of family."

Both Splinter children are Folds of Honor Scholarship recipients.