Soldier Honored: Paul J. Atim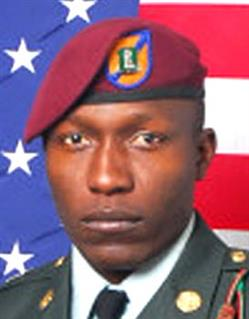 Dates:
Hometown:
Branch of Service:
Army
Rank:
Sergeant
Army Sergeant Paul J. Atim, 27, of Green Bay, Wisconsin, was assigned to 1st Battalion, 32nd Infantry Regiment, 3rd Brigade Combat Team, 10th Mountain Division based in Fort Drum, New York and served during Operation ENDURING FREEDOM. On April 17, 2011, SGT Atim and two other soldiers were killed when insurgents attacked their unit with an improvised explosive device in Ahmid-Khan, Afghanistan.

A native of Uganda, SGT Atim attended the University of Wisconsin-Green Bay and joined the Army in November 2006. SGT Atim completed training at Fort Jackson, South Carolina and Fort Lee, Virginia before getting assigned to Fort Bragg, North Carolina with the 82nd Combat Aviation Brigade. After a yearlong deployment to Afghanistan, he retrained at Fort Benning, Georgia to be an infantryman and transferred to Fort Drum, New York in December 2010. SGT Atim was awarded a Purple Heart posthumously for his service and sacrifice.

"He was called to serve in the military, that was an interest for him," said Brent Blahnik, director of International Education at UW-Green Bay. "It was always a lifelong dream of his to come to the United States. I think this was a way he felt he could give back to America." In Uganda, he was active in church and played the drums and guitar at worship services. SGT Atim was a boxer and DJ in Uganda and he continued those passions in Green Bay. He was known for his sense of humor and sunny personality.

SGT Atim's son is a Folds of Honor Scholarship recipient.