Soldier Honored: Jeffrey Ausborn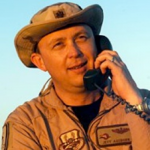 Dates:
Hometown:
Branch of Service:
Air Force
Rank:
Major
Major Jeffrey Ausborn was a 1991 graduate of Troy University from Hokes Bluff, Alabama.  He was assigned to the 99th Flying Training Squadron out of Randolph Air Force Base in Texas. The 19-year Air Force veteran had volunteered to go to Afghanistan to teach Afghani pilots to fly the C-27 aircraft.

Major Ausborn started his career as a C-130E pilot, the planes known for their capability to land on unprepared runways and move large amounts of cargo or troops. He gained the title Instructor Pilot in 2000 for the C-130, the T-37 and the T-6. During his career, he logged over 2,300 hours in both airlift and trainer aircrafts. Of those hours, 166.8 were Combat Hours which includes flying with night vision goggles and piloting under fire. Not only was Major Ausborn a decorated pilot, be was a husband and a father to five children. He is remembered as "Oz" by close friends, and as a patient, compassionate and willing man.

Although, Major Ausborn had been deployed during Operation IRAQI FREEDOM, he volunteered to return to the Middle East, this time to Afghanistan in support of Operation ENDURING FREEDOM. His role was to teach Afghan pilots to become aircrew members for the C-27 Spartan. On April 27, 2011, Major Ausborn and seven other airmen were killed when an Afghan pilot opened fire at Kabul International Airport following an argument.

Major Ausborn's daughter is a Folds of Honor recipient and his wife, Suzanna, is a Speaker for Folds of Honor.