Soldier Honored: Tobias C. Meister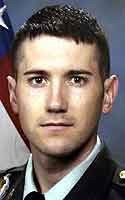 Dates:
Hometown:
Branch of Service:
Army
Rank:
1st Sgt.
Two years before graduating high school in 1992,  Tobias Meister joined the Iowa National Guard, thus beginning his love of the Army.  He then graduated from the University of Texas - San Antonio with a degree in Business and went to work for an oil and natural gas company in Tulsa, Oklahoma before becoming an Army Drill Sergeant.  There he earned the Reserve Drill Instructor of the Year Award in 2002 and was assigned to 321st Civil Affairs Brigade, Army Reserve, San Antonio, Texas before his deployment in June of 2005. On December 28, 2005, 1SG Meister's Humvee struck and detonated an Improvised Explosive Device while conducting routine combat patrol operations south of Asadabad, Afghanistan.

A 30-year-old from Jenks, Oklahoma, 1SG Meister was a former middleweight Golden Gloves Boxing Champion and held a 5th degree black belt in Tae Kwon Do.  Although his skills were lethal, his family remembers him as one who had a clear vision of a safer world for his family and friends.
1SG Meister is survived by his wife and son, who was only 18 months old at the time of his death.

Both his wife and son are Folds of Honor scholarship recipients.