Soldier Honored: Samuel M. Griffith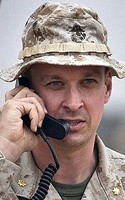 Dates:
Hometown:
Branch of Service:
Marine Corps
Rank:
Maj.
Marine Corps Major Samuel M. Griffith, 36, of Virginia Beach, Virginia was assigned to 4th Air-Naval Gunfire Liaison Company, Marine Forces Reserve, West Palm Beach, Florida. He had deployed three times to either Iraq or Afghanistan both flying and as a Forward Air Controller. On December 14, 2011, while serving during Operation Enduring Freedom in Afghanistan, Major Griffith was killed while conducting combat operations in Helmand province.

Raised in Raleigh, North Carolina, Samuel Griffith attended William G. Enloe High School and was an Eagle Scout. He went on to graduate from Penn State University where he was a member of the Sigma Tau Gamma fraternity.  Upon graduation, he was commissioned into the Marine Corps and in 2000 earned his wings. He flew F/A-18D's and instructed Forward Air Controllers (FAC).

Major Griffith loved his family, his faith and his country; his passion was to serve. He also had a passion for Ford Mustangs, especially his prized restored 1968 Fastback.

Major Griffith left behind a wife and two children, one of which was a Folds of Honor scholarship recipient.