Soldier Honored: Michael D. Elledge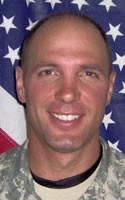 Dates:
Hometown:
Branch of Service:
Army
Rank:
Staff Sgt.
Army Staff Sergeant Michael D. Elledge, of Brownsburg, Indiana, was assigned to the 1st Battalion, 68th Armor Regiment, 3rd Brigade Combat Team, 4th Infantry Division, Fort Carson, Colorado.  He succumbed to his injuries he received when his vehicle encountered an improvised explosive device during combat operations in Baghdad, Iraq, on March 17, 2008.  He served in support of Operation Iraqi Freedom and is a recipient of the Purple Heart. He was 41 years old.

Upon graduating high school, Michael Elledge enlisted in the Marine Corps and served four years of active duty before being honorably discharged.  He then earned his airframe and powerplant license and began his civilian life as an aircraft mechanic. After working fourteen years, he was laid off due to the September 11, 2001 terrorist attacks. Being too old to re-enlist in the Marine Corps, he enlisted in the Army. "When 9/11 hit, he felt a real need to re-enlist," his sister, Marsha Johnson, said, "He was a real patriot."


SSG Elledge is survived by his wife and their three children. The Elledge children are Folds of Honor recipients.