Soldier Honored: Luis M. Melendez-Sanchez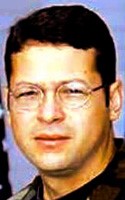 Dates:
Hometown:
Branch of Service:
Air Force
Rank:
Staff Sgt.
Air Force Staff Sergeant Luis M. Melendez-Sanchez, 33, of Bayamon, Puerto Rico was assigned to the 1st Communications Squadron, Langley Air Force Base, Virginia and deployed to Djibouti as part of the Combined Joint Task Force – Horn of Africa.  On February 17, 2006, while flying a night time training mission in the Godoria Range area, two CH-53E Super Stallion helicopters crashed into the Gulf of Aden. Djiboutian military members who were near the impact sight were able to rescue two injured crew members, but all others on board the helicopters perished, including SSG Melendez-Sanchez.

SSG Melendez-Sanchez was deployed four times to the Middle East, prior to going to Djibouti.  He was married and had two sons.

SSG Melendez-Sanchez's wife and children have been or are currently Folds of Honor scholarship recipients.