Soldier Honored: Jose Regalado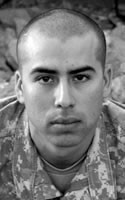 Dates:
Hometown:
Branch of Service:
Army
Rank:
Sergeant
S. Army Sergeant Jose Regalado, 23, of Los Angeles, California was assigned to the 3rd Squadron, 3rd Armored Cavalry Regiment, Fort Hood, Texas. He served as a Cavalry Scout during Operation Iraqi Freedom. On November 12, 2008, SGT Regalado and another soldier were killed in Mosul, Iraq when an Iraqi Army soldier opened fire with small arms. The shooting occurred shortly before noon as a group of American troops were conducting a routine visit to an Iraqi security post.

As a freshman at Woodrow Wilson High School in Los Angeles, Jose Regalado got his first taste of military life when he joined the Junior ROTC.  The aspiring cadet soon decided to enlist in the Army, immediately after graduation in July of 2003. Two years later, he was deployed on his first tour of Iraq. In 2007, SGT Regalado married. In addition to his wife, he loved anything to do with cars. He especially enjoyed disassembling and reconstructing trucks.

Just two weeks before SGT Regalado departed for his second tour of Iraq, he learned his wife was pregnant. He carried around ultrasounds of his baby girl in Iraq as a "good luck charm". He was able to fly home to see his new daughter before returning to Iraq. Two months later, SGT Regalado was killed.

He is survived by his wife, who is a Folds of Honor scholarship recipient, and his daughter.