Soldier Honored: Eric S. Holman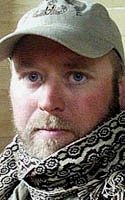 Dates:
Hometown:
Branch of Service:
Army
Rank:
Staff Sgt.
Army Staff Sergeant Eric S. Holman of Evans City, Pennsylvania was assigned to the 192nd Ordnance Battalion, 52nd Ordnance Group, 20th Support Command, Fort Bragg, North Carolina. He enlisted in the Army in October 2003, and in 2005 joined the U.S. Army Parachute Team, the Golden Knights.  Logging more than 2,600 free-fall jumps, 1,000 tandem jumps and 21 military static line jumps, in 2009, SSG Holman volunteered to become an Explosive Ordnance Disposal (EOD) Technician.  He became a certified EOD leader in October 2011 and deployed to Afghanistan in January 2012.  On August 15, 2012 in Godali, Ghazni Province, Afghanistan, SSG Holman died of wounds caused by an improvised explosive device while conducting combat operations. He was 39 years old.

A 1990 graduate of Avonworth High School in Pittsburgh, PA, SSG Holman earned a Bachelor of Science in Administration of Justice from Pennsylvania State University in 1995.  "He loved his country," David Holman said. "He was very patriotic and just felt he needed to do what he needed to do."  SSG Holman's decorations include the Bronze Star Medal, Purple Heart, Combat Action Ribbon, Army Commendation Medal, Army Achievement Medal and many others.