Soldier Honored: Ross S. Carver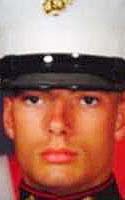 Dates:
Hometown:
Branch of Service:
Marine Corps
Rank:
Lance Corporal
U.S. Marine Corps Lance Corporal Ross S. Carver of Rocky Point, North Carolina was assigned to the 2nd Battalion, 6th Marine Regiment, 2nd Marine Division, II Marine Expeditionary Force, Camp Lejeune, North Carolina. He served as an Infantry Assault Marine in Afghanistan during Operation Enduring Freedom. On September 3, 2010, LCpl Carver was killed while conducting combat operations in Helmand Province. He was 21 years old.

A graduate of Laney High School in 2007, LCpl Carver enlisted in the Marine Corps in March of 2008. Lieutenant Colonel Gary Green worked with Carver in the ROTC Program at Laney. He said Carver knew he wanted to be a Marine. After graduating high school and attending boot camp, Green said Carver came back as a changed man – stronger but still quiet, humble, and always willing to put others before himself. "You have to have resolve. You must believe in what you are doing. You have to step up when it's your turn to step up and I think he did it all the way," said Lt. Col. Green. "He knew he wanted to be there for his country and he did just that."

LCpl Carver's wife and son are both past Folds of Honor scholarship recipients.