Soldier Honored: ERIK R. HELDT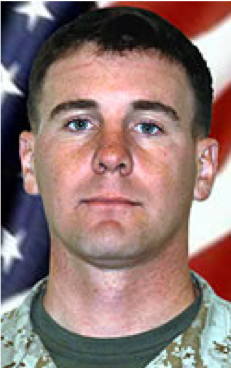 Dates:
Hometown:
Branch of Service:
Marine Corps
Rank:
LANCE CORPORAL
United States Marine Corps Lance Corporal Erik R. Heldt was assigned to the 1st Battalion, 5th Marine Regiment, 1st Marine Division, I Marine Expeditionary Force, Camp Pendleton, California; attached to the 2nd Marine Division, II Marine Expeditionary Force (Forward). Following his enlistment in the Marine Corps in 2003, and upon completion of his training, the Hermann, Missouri native loved every part of his job as a machine gunner at "Camp Snake Bit" near Ramadi, Iraq.

On June 16, 2005, LCpl Heldt was on a mission with his company commander. They were conducting a mobile patrol through some of the area's most hostile territory when their armored vehicle struck a concealed improvised explosive device. The resulting blast killed LCpl Heldt, and his commander instantly.  Heldt was 26 years old.

The youngest of three boys, Erik Heldt grew up on a farm in eastern Missouri. Erik played football in high school and graduated in 1997. He was a husband and father of a young daughter. He chose the Marine Corp over the Army because he believed he could make a bigger difference. His brother Matt stated, "He thought protecting our way of life was definitely the right thing to do. He paid the ultimate price for us to go to church on Sunday morning or to go grocery shopping after work." He wanted to become a diesel mechanic and a football coach after his military service.

LCpl Heldt is survived by his wife and daughter, who is a recipient of a Folds of Honor scholarship.