Soldier Honored: Ramon A. Villatoro Jr.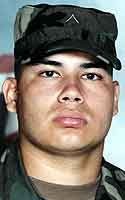 Dates:
Hometown:
Branch of Service:
Army
Rank:
Pfc.
U.S. Army Private First-Class Ramon A. Villatoro, 19, of Bakersfield, California was assigned to 3rd Squadron, 3rd Armored Cavalry Regiment, Fort Carson, Colorado.  He was serving as a Cavalry Scout in Baghdad during Operation Iraqi Freedom. On July 24, 2005 PFC Villatoro and three additional soldiers were killed when an improvised explosive device detonated near their Bradley fighting vehicle.

With a dream of becoming a doctor, Ramon Villatoro wanted to help those in need in his hometown of Bakersfield, California. He, like many others, saw the U.S. Army as the best way to achieve that dream.  He graduated high school in 2004 and joined the Army in July of the same year.  PFC Villatoro loved softball, cars, singing, and dancing.  He was charismatic and friendly. PFC Villatoro was posthumously awarded the Purple Heart and Bronze Star Medal.

His wife and son are both Folds of Honor scholarship recipients.