Soldier Honored: Walter Barrie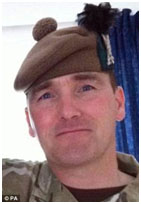 Dates:
1971-November 11, 2012
Hometown:
Glasgow City, Scotland
Branch of Service:
The Royal Regiment of Scotland
Rank:
Captain
Captain Walter Barrie, 41, of Glasgow City, Scotland, served with The Royal Scots Borderers, 1st Battalion The Royal Regiment of Scotland. On November 11, 2012, Capt. Barrie died in an insider attack at Forward Operating Base Shawqat in the Nad-e Ali district of Helmand province. He was taking part in a football match between British soldiers and members of the Afghan National Army at his base when he was shot at close range by a member of the Afghan Army.

Capt. Barrie joined the army in October of 1987. He was promoted to Warrant Officer Class One in 2007 and became the Regimental Sergeant Major of 2nd Battalion The Royal Regiment of Scotland (2 SCOTS). He instructed at the Army Training Regiment Glencorse and the Royal Military Academy Sandhurst. Over his 25 year career he served in Northern Ireland, Bosnia, Kosovo, Iraq and a 2008 tour in Afghanistan. Capt. Barrie commissioned as an officer in 2009, becoming the Unit Welfare Officer of 2 SCOTS and was subsequently posted to 1 SCOTS as D Company Second in Command in 2011. He deployed on this tour in August 2012. He was described as an excellent infantryman who rose through the ranks to become a gifted officer. A colleague called him a man of effervescent humor, steely determination and the widest compassion. He participated in many sports, including skiing and football, and was a Football Association coach. He was also a fanatical supporter of Glasgow Rangers. He leaves behind his wife, son, mother and stepfather, brother and sister. His wife said he "was great man, a doting and amazing father and a fantastic husband.