Soldier Honored: Michael C. Anderson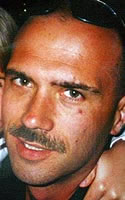 Dates:
1968-May 2, 2004
Hometown:
Daytona, Florida
Branch of Service:
Navy
Rank:
Petty Officer 2nd Class (SEAL)
Navy Petty Officer 2nd Class Michael C. Anderson, 36, of Daytona, Florida, was assigned to Naval Mobile Construction Battalion 14, based in Jacksonville. He was killed by hostile fire at Camp Fallujah in Anbar Province, Iraq on May 2nd, 2004 while serving during Operation Iraqi Freedom. About 400 of the battalion's 700 sailors were in Iraq on a humanitarian mission, repairing roads, bridges, water and power plants. The sailors were better known as "Seabees," their motto being "We build, we fight." Petty Officer 2nd Class Anderson was one of five sailors that lost their lives in the attack.

Petty Officer 2nd Class Anderson graduated from Oshkosh North High School in Wisconsin in 1986. He leaves behind a wife, whom he was married to for eight years, and one daughter who is a Folds of Honor scholarship recipient.