Soldier Honored: Juantrea T. Bradley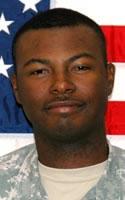 Dates:
1980-March 12, 2008
Hometown:
Greenville, South Carolina
Branch of Service:
Army
Rank:
Staff Sergeant
Assigned to 7th Special Troops Battalion, 7th Sustainment Brigade, 10th Mountain Division (Light Infantry), out of Fort Eustis, Virginia, Bradley, a cargo specialist, was sent to Iraq to provide logistical support by convoy, resupply ammunitions, purify water, distribute supplies, and maintain equipment to more than 20,000 American soldiers and coalition forces stationed there. Bradley enlisted in the Army in 1999 and completed basic training at Fort Jackson, South Carolina. A graduate of the Warrior Leader's Course and the Cargo Officer's Course, he then served as an infantryman in an ordnance company during his first deployment to Germany, then in Kuwait in February 2002. He was also a transportation specialist at Baghdad International Airport from 2005 to 2006 before his final deployment to Iraq in October 2007.

The 28-year-old from Greenville, South Carolina, known as "Trea," was serving his second tour of duty when on March 12, 2008. His unit was handling a supply movement for US forces in the village of Talil, Nassiriya Region, Iraq, south of Baghdad when the vehicle in which he was traveling was hit by indirect enemy forces rocket and mortar fire. Two other American military service personnel were also killed in the attack.

Sergeant Bradley was awarded the Bronze Star and Purple Heart Medals as well as eight other decorations and commendations during his career. Bradley's wife, Ava, received a Folds of Honor Higher Education Scholarship.